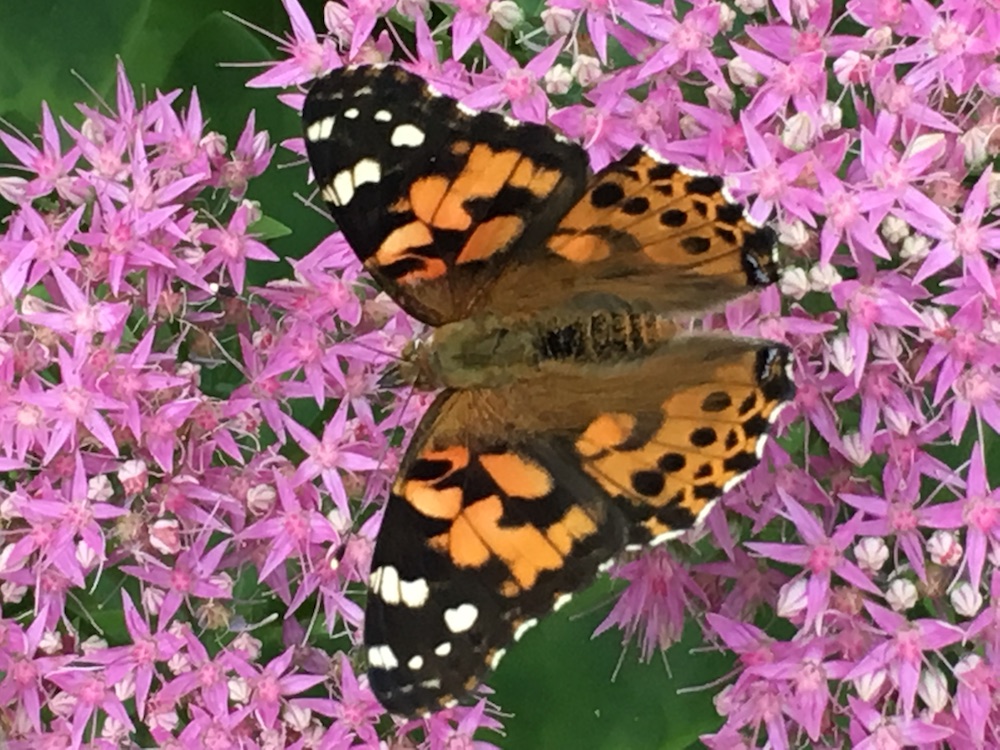 A painted lady butterfly explores the flowers of some stonecrop sedum earlier this week. Butterflies are migrating through the state in large numbers in recent days. Photo by Todd Burras
When it comes to the plight of North American pollinators, monarch butterflies and honeybees steal most of the headlines. And with good reason.
Most people likely have some childhood connection with monarchs, and seemingly everyone knows the sweet taste of honey comes from honeybees. As Steve Lekwa recently wrote, monarch butterflies and honeybees are "the poster children for pollinators."
Still, as has been well documented here and throughout the media in recent years, countless species of insects, birds and mammals – not just honeybees and monarchs — play essential roles in the pollination of the plants that provide a majority of the food we consume.
Whether it's bats, flies, hummingbirds, the scores of species of butterflies this continent, alone, is home to, or the thousands of species of moths that most of us can't begin to identify more than a couple of and which we likely take for granted, many creatures, including – get this – lemurs, geckos and honey opossums – are responsible, in part, for the production of human food.
I've been thinking about one of those less high-profile pollinators this week as I've come back to central Iowa. In one of the gardens in our backyard, the stonecrop sedum I planted a few years ago has been host to a steady parade of painted lady butterflies. These pretty orange, black, white, brown and pink butterflies are members of the brushfoot family and considered the most cosmopolitan of all butterflies, being found not only in North America, but also South America, Asia, India, Europe and Africa.
Migrating painted ladies have been collecting nectar and sharing the tiny pink flowers of the sedum with wild bumbles bees, Steph's honeybees and numerous other insects. In your own flower gardens or perhaps on a walk around Ada Hayden Heritage Park in Ames, you've maybe seen some 2-inch painted ladies with the jagged wing margins. Apparently it's been a good week for them.
Last Saturday, the Friends of Ada Hayden Heritage Park daily photo update featured a pair of photos of painted ladies by Wolf Oesterreich. Along with the beautiful images, Wolf included a few notes indicating the number of painted ladies at the park had "exploded these past two days."
On Sept. 4, Wolf counted two painted ladies during his daily rounds in the park. A day later, the number was 223-plus. By Sept. 9, the day I first noticed the painted ladies in our backyard, he had counted at least 592.
"The actual number of these butterflies could easily be double, if not triple, of what I recorded," he wrote.
The little sanctuary in our backyard couldn't begin to support numbers like that, but I did count at least two-dozen at one time on Sunday. As the week has progressed, they've been joined by a few monarchs, as both species make their way to the southwest United States and Mexico.
Whether its painted ladies, monarchs, hummingbirds, warblers, green-winged teal or any other number of species, the fall migration for avian creatures is well underway. Enjoy it while you can.
Todd Burras can be reached at outdoorstoddburras@gmail.com.