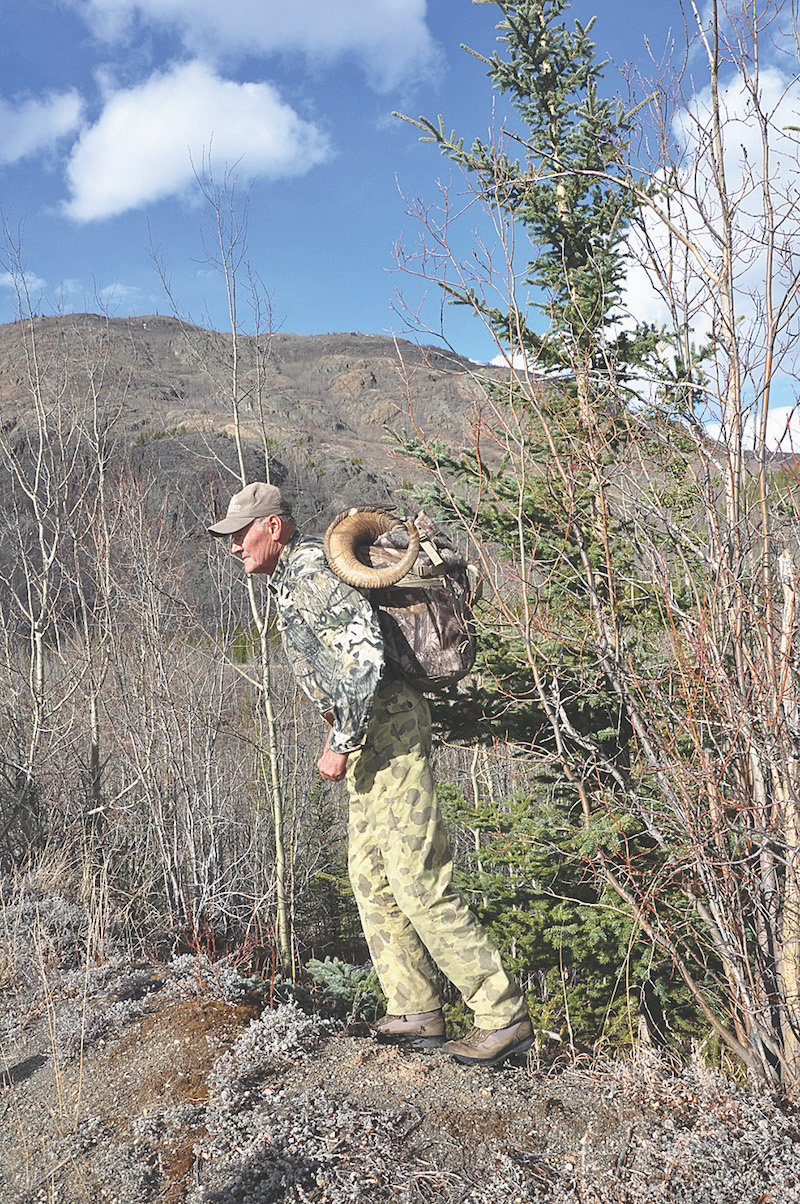 Roger Hill, of Roland, was a well-known wildlife photographer whose photos appeared in countless national magazines and publications. He took this self-photo while photographing wild sheep in the Desert Southwest. Hill, 73, died unexpectedly on Nov. 28. A
By Todd Burras
In August 2011, I sat down with a pen and legal pad for what I hoped would be a short interview with Roger Hill for a story I wanted to write about his membership in the Grand Slam Club, an exclusive group of hunters who have killed all of North America's four major sheep species. What ensued was a more than 3-hour conversation in which Roger discussed how he had started out his quest with a gun in one hand but ended it with a camera in the other.
The interview was punctuated by a long slideshow on a laptop computer that included a sampling of the tens of thousands of photos Hill had shot of wild sheep on trips to Alaska, the Yukon, the Northwest Territories and southwestern United States.
My head was spinning with details and facts and stories and stunning images by the time he left The Tribune office, and it left me wondering how I would ever sift through it all and come up with a story of suitable length for a newspaper.
Roger Hill, I realized that day, was a man who had been living the sort of adventurous life that most outdoors-loving people only dream about. Or read about. Or write books about.
It was a week later at The Tribune when I got a call from the front desk that there was someone there who wanted to see me. A couple minutes later I walked out front
to see Roger – all 6 feet, 6 inches of him — standing just inside the front door holding up two giant grocery sacks.
"I dug up some hills today and had too many for my wife and me to eat so I put a bunch in the sack along with a few onions and cucumbers and summer squash if you would like. Sorry I didn't have time to clean the dirt off them."
Thus began my relation- ship with Roger Hill, which would see him calling or stopping by the Tribune office or my house sporadically for the next six years, sometimes just to talk about something he'd seen or photographed while at other times to drop off fresh produce or discs full of his incomprehensibly spectacular wildlife photos that he thought I might just enjoy looking at, which of course I did.
While I knew Roger from a short distance, many others, such as Ed Rood, an exceptional photographer in his own right, knew him intimately, having spent countless hours and miles together traveling back roads, slogging across rough terrain and taking photo- graphs throughout Story County, Mid-Iowa, the Midwest and beyond.
When Ed sent me a copy of a column he wrote about Roger shortly after his unexpected death on Nov. 28, I asked if I could reprint it in The Tribune. Where six years earlier I had struggled mightily to condense a 3-hour inter- view into a coherent news story, Ed had quickly and gracefully compressed four decades worth of friendship into a beautiful eulogy that captures the spirit of Roger Hill's life and legacy.
With Ed's permission on this sad occasion, I gladly share his tribute to his long- time friend.
Farewell to one of conservation's 'tall trees'
By Ed Rood
Special to The Tribune
On a warm September morning a couple of years ago I was enjoying coffee with friends when my cell phone rang. Noticing who was calling I switched to speaker and set it on the table.
"What's happening?" I asked.
"I'm getting a little bored so I thought I'd give you a call," the caller replied, "I'm about 30 feet from a sow grizzly and her two cubs. They're just napping. Not much to photograph. Oops, I think they're starting to stir . . . better go."
My coffee companions rolled their eyes. One of them even laughed and added, "Yah, right."
It was clear they didn't know who had been on the phone. If they did they would have realized he had no need to embellish. It was just another morning in Roger Hill's life.
I'm sorry to report that Roger left this world Nov. 28. No more will I receive such phone calls because no one I know will be calling while they are within a few feet of grizzly bears. There was only one Roger Hill.
Roger became a big part of my life back in the mid-1980s. He contacted me and asked if I might give him some advice on photographing sporting events. He added that he already did some outdoor photography. That came as no surprise. I knew of Roger and his brother Jerry and their outstanding wildlife photography. Truth was, I learned much more from Roger than he ever did from me.
From that time on Roger and I photographed together hundreds if not thousands of times. He was the ultimate wildlife photographer because he seemed to know what animals were going to do before they did.
During his early years Roger had been a hunter. He had harvested many animals ranging from squirrels to coyotes to moose to sheep to bears.
By the time I met Roger he had hung up his guns and purchased high-end cameras and lenses. He once told me that he no longer had the desire to hunt – except with a camera.
That hunting and tracking expertise is what made him the great photographer he became. His photographs have appeared in all the major outdoor magazines. His donated photographs have meant untold income for such organizations as the Iowa Department of Natural Resources, Pheasant Forever, Ducks Unlimited and many other groups.
Following Roger was no easy job. He went where the animals were and he rarely slowed down. If you wanted to get similar photos you'd better be in shape. Many were the times I tried to keep up with him as he climbed mountainsides in pursuit of wild sheep and goats. I still remember watching his long legs ever climbing like a daddy longlegs.
Although Roger had countless photos of huge whitetail bucks, eye-popping rooster pheasants, strutting wild turkeys and cute fox, his true love was the beasts that inhabit such places as Wyoming, Montana, Alaska and the Yukon. After retirement Roger would visit them at least once a year. There he would live with the creatures and capture them with his camera. It is with that in mind that I will share one more story.
Without a firearm Roger relied on pepper spray for protection from the more powerful animals. One recent fall he came across a monster bull elk that had Roger in his sights. He made a pass at him with his huge antlers. Roger realized that if he sprayed the charging animal in the eyes he would be blinded and then would wonder off into the woods to die. So he sprayed him in the chest and let the pepper drift up to his nostrils. It worked. The elk quickly departed.
Yes, that was Roger Hill. Who else would be so concerned over the welfare of a charging animal, hell bent on gauging him, than Roger? As recently retired Iowa Department of Natural Resources technician Pat Schlarbaum put it: "Roger Hill is a very tall and broad burr oak tree in conservation matters. His passing is a great, great loss, yet his inspiration is greater."
Ed Rood is the former publisher of the Tri-County Times and an award-winning outdoors photographer and columnist. His work has appeared in local newspapers for more than five decades.