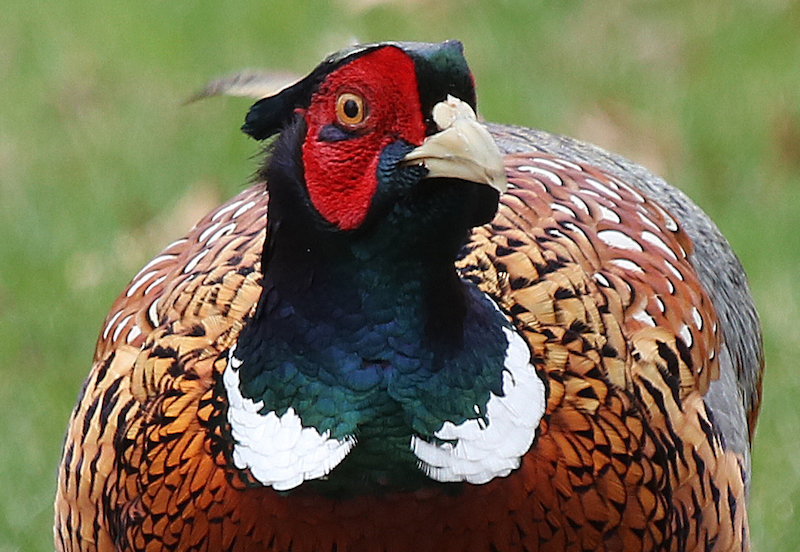 If winter and spring statewide weather conditions are an accurate indicator, then upland gamebird hunters should be optimistic heading into the field this autumn.
That's the opinion of Todd Bogenschutz, upland wildlife biologist for the Iowa Department of Natural Resources. Bogenschutz relies on winter and spring conditions as reported by the National Oceanic and Atmospheric Administration to make the pre-season pheasant predictions.
"Last year our weather model predicted no change or a small increase in pheasant numbers, and our roadside counts showed a 12 percent decrease so the model was in the ballpark with a stable population," Bogenschutz said. "We've used this model to forecast pheasant trends since 2002 and it's been correct 12 of those 15 years."
Bogenschutz said the state's pheasant population typically shows increases following mild winters with springs that are dryer and warmer than normal.
"Statewide snowfall from December through February averaged 20 inches or about 5 inches below the 1961 to 1990 average," he said. "The vast majority of the state saw snowfall well below this average with only the northwest and north-central regions reporting above normal snowfall."
The pheasant population typically shows an increase following milder winters because more hens survive the winter leading to more hens available for nesting.
"The spring started nicely with warmer-than-normal March and April temperatures, while May was cooler than normal," Bogenschutz said. "According to the state climatologist, statewide nesting season rainfall (April and May) was 8.7 inches, while April-May temperatures averaged 54.8 degrees, both very close to historic averages. Rainfall totals were a bit wetter than normal in both April and May but fairly consistent statewide."
That said, Bogenschutz anticipates a stable to increasing population of pheasants that will be available to hunters starting in late October.
"Our weather this year is nearly identical to what we saw in 2015, and statewide pheasant counts increased 40 percent that year," he said. "If we document a similar increase to 2015 in bird numbers on our roadside counts, it may mark our highest statewide count since 2006."
The DNR's August roadside survey is the best gauge of what upland populations will be this fall. The DNR will post survey results on its website around Sept. 15.
"Anecdotally, staff and landowners have reporting more roosters crowing and male bobwhite calling across the southern one-third of Iowa this spring, a sign of good overwinter survival," Bogenschutz said. "Bobwhite numbers could be some of the best seen in decades."
Successful martin hatch
It's too early to say a new purple martin colony has been established at Ada Hayden Heritage Park, but if this summer was an indication, then there's reason to be hopeful that one will be established in the next couple of years.
This spring and summer, two pairs of martins used compartments in the large T-14 house situated between the lake basins at the popular park in Ames. Dave Duit, who helped construct and install the house nearly three years ago, is clearly pleased with this year's developments at the site.
"There were five nestlings in each of the two compartments, and each of the two nests successfully fledged all of their nestlings about 30 days after they hatched," said Duit, who lives in Nevada and works at Ames High School. "The parents will train their newly fledged offspring for two weeks — how to catch bugs, keep away from predators and sharpen their flying skills."
Near the end of August, Duit said, the martins will start their 5,000-mile journey to Brazil where they will spend the winter.
"They will fly around 250 to 350 miles per day," he said. "If we all cross our fingers, hopefully 10 to 20 percent of the nestlings will return back to their
Ada Hayden home in early April."
Duit said if all 10 nestlings survive their round-trip migration only one or two will take up residence at the Ada Hayden site; the other eight or nine "will find housing in the area of Ames. They may also find a new home to call their own during their spring migration."
"The adult parents will return because they were successful in raising a family," he said. "This is now ingrained and is what is known as site fidelity."
Not until a site reaches five pairs of nesting martins can it be called a colony.
"This could take a few years," Duit said. "We are playing a numbers game, and once the site hits a critical number and the house and martins are taken care of, the colony will be thriving with martins."
Duit said he encourages the public to stay on the bike path to observe the martins and to not approach the house for their own safety as well as that of the martins.
Waiting on swifts
Another new man-made nesting and roosting structure of interest to birders in the area is the chimney swift tower at the new Dakins Lake Park near Zearing.
The 12-foot-tall tower with vinyl siding that is anchored to a concrete slab was constructed late last fall by local Boy Scout Sam Taylor as part of his Eagle project.
The tower, which is designed to be used by a pair of nesting birds in the spring and summer, could hold up to potentially 100 roosting birds in the lead-up to the fall migration.
"I didn't see any activity (Monday) when I checked, though it probably wasn't the most ideal time of day and weather conditions to do so," said Erica Place, outreach coordinator for Story County Conservation. "I'm hopeful it will be used this fall as a roosting site. It might take some time for the swifts to find it."
If they do, much like the martins, it will take only a short time before it becomes a familiar nesting and roosting site for future flocks of chimney swifts.
Todd Burras can be reached at outdoorstoddburras@gmail.com.