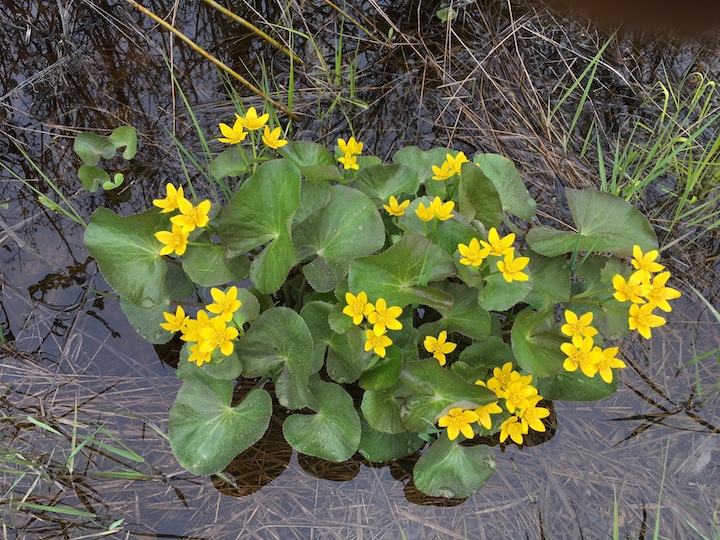 ELY, MINN. – Sunny fields of gold this time of year across the Midwest are the colorful result of uncommonly prolific common dandelions. In standing water of low-lying forests, potholes, bogs, swamps and ditches, however, the occasional "yellow brick road" through an often otherwise brown landscape is usually the result of spectacular masses of marsh marigold.
Neither a marigold nor a cowslip, marsh marigold is an annual wildflower that's a member of the buttercup family. The name "marigold" comes from an old English world that means "marsh-gold." As the name suggests, marsh marigold are water-loving wildflowers that like to "keep their feet wet." They grow to a height of 1 to 2 feet, produce yellow upturned petal-like sepals that form a shallow cup and have thick leaves that are dark green.
Sig Olson, one of the country's most renowned naturalists, conservationists and authors of the mid-20th century, called marsh marigold the "flower of the spring floods."
In this region of the country in which Olson lived, where there is a seemingly never-ending labyrinth of lakes, rivers, streams and wetlands, marsh marigold abound during May.
"The earth was trying its best to cover its soggy desolation while waiting for the green of early summer," Olson wrote in his classic "The Singing Wilderness." "The butter-yellow mats that had come so swiftly would hold sway until other flowers began to bloom, adding a not of color and aliveness. But by the time the creeks were back to summer levels, the marigold would be forgotten, remembered only by trout fishermen as bedding in their creels."
Closer to home in central Iowa, marsh marigold, though not so prolific as in some regions of the Midwest, can be found earlier in the spring with a little effort.
"They were in full bloom on April 23," said Tom Rosberg, a prairie expert who lives near Colo and teaches at Drake University. "I cannot think of a population in Story County, but there could be. The closest one I know of is at Turtlehead Fen in Polk County."
Steve Lekwa, a lifelong resident of Story County, said, "There used to be a little of it just north of the Prairie View pull-off on Interstate 35 south of Story City near the bottom of a wet draw. I haven't been there in many years, though."
Jimmie Thompson, an Ames resident who has conducted plant inventories throughout Mid-Iowa, said small populations of marsh marigold exist in the area, but others have been lost.
"Years ago there was a very small population on the west-facing slope overlooking Squaw Creek at the Northridge subdivision within the Ames city limits," said Thompson. "But I think that population has been extirpated."
Thompson said during his four-year plant inventories of Boone and Hamilton counties, he found a small population of marsh marigold at Bjorkboda Marsh in Hamilton County as well as a few places in Boone County. He said he has also seen a population of it at the south end of Brushy Creek State Park in Webster County.
Carl Kurtz, another prairie expert who lives near Zearing, said there is a little in the wet areas of his prairie, but it isn't very prevalent around the area.
"I was hoping to collect some seed this year," Kurtz said, "but am behind on that endeavor."
At least there's always next year.
Marsh marigold is past the blooming stage in central Iowa for the season, but make a note to look for it next spring. As Glenda the Good Witch of the North told Dorothy in "The Wizard of Oz," just "follow the yellow brick road."
Todd Burras can be reached at outdoorstoddburras@gmail.com.